Desloge Police Department Mission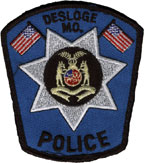 Our mission is to preserve public peace and order, prevent and detect crime, apprehend offenders and protect our community and its members' property.
We further uphold the Constitution of the United States of America, enforce the laws of the great State of Missouri, and the ordinances of the City of Desloge. The Desloge Police Department is endowed with this legal authority and in the exercise of this power, justice and equality will always be the activating motive.
This website is intended to provide the community with information for that purpose as well as provide other useful community information and links.
Message From The Chief
Chief James "Jebo" Bullock
I am pleased to welcome you to the official website of the Desloge Police Department. We have been responsible for public safety in Desloge, Missouri since 1941. Today the department employs 9 full time officers and 10 reserve officers and serve more than 5,200 residents.
Members of the Desloge Police Department are ethically and morally dedicated to providing the finest law enforcement services to its community. I believe that members of the Police Department have a tremendous responsibility to you in the community.
Helpful Information

When to call 911
If you're not sure if it's a fire, medical or police emergency or not, the best answer is "when in doubt, call 911."

Report drug activity
The Desloge Police Department is taking an active stand against illegal substance abuse, manufacturing, and distribution.